Selected Trail Projects
DirTraction was able to work with Singapore National Parks (Nparks) and Singapore Amateur Cycling Association (SACA), on their initial trail program at Kent Ridge Park, located in the Southern Ridges of Singapore. The result is Kent Ridge mountainbike trail, a 3km loop that is arguably the most technically challenging mountainbike trail in Singapore.
read more on the Kent Ridge Mountain Bike Trails
---

DirTraction was again involved with National Parks Board in adding a substantial 7km of trails to the existing Tampines mountainbike trail, that was at the time simply a flat 3km gravel fire road.The concept of Kent Ridge Mountain Biking Trail, giving new breathing space for trails to complement the 'old-school' trails that Singapore used to have, snowballs and encourage new trails network to be formed.
Tampines Mountainbike Park has since played host to a number of local and international mountainbike races, most notably the Bike Asia 100 in 2008 and the Eneloop Mountainbike Carnival in 2009 and its series of long 12hrs races.
2010 promises more excitement as the Youth Olympics comes to Singapore, and Tampines MTB Park (split and renamed to Tampines Bike Park and Tampines Mountain Bike Trails by then) earns the distinction of being the inaugural Youth Olympics mountainbike venue.
read more on the Tampine MTB Park
---
In 2007 DirTraction was called upon again, this time to design and build a mountainbike park on Pulau Ubin, an island just off the northeastern shore of Singapore. Where previously Ubin was known more for its idyllic villages and biologically diverse wetlands, it has now transformed into a serious riding destination for mountainbike enthusiasts, both local and foreign.
The trail network highlights Dirtraction collaboration with IMBA Trail Solutions, the International Mountain Bicycling Association, in delivery of a sustainable trail system in the tropics.

read more on the Ketam Mountain Bike Parks
---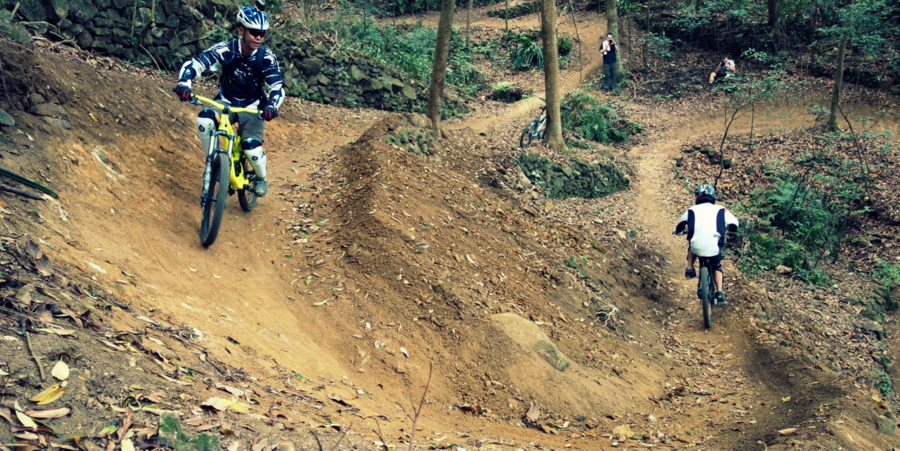 An IMBA Trail Solutions project where Dirtraction collaborate as a sub-contractor.
Involving facilitation of multiple trail workshops for Agriculture, Fisheries and Conservation Department (AFCD) Hong Kong and Hong Kong Mountain Biking Association (HKMBA), enabling  at least 200 country parks officer with the concept of sustainable trails in Hong Kong. Major work includes Tin Fu Tsai North Section, Ho Pui Trailhead series of next generation flow trails, and flow and sustainability improvement work for Ho Pui downhill extension at Tai Lam Country Park, Hong Kong.
read more on the mountain biking trails at Tai Lam Country Park, Hong Kong
---
Macpherson Community Pump Track
Experimental Tropical Pump Track in Central Singapore