Event Details
Singapore Mountain Bike Carnival is back for the 7th year, with a new venue and race course at the northern Singapore venue of Lor Asrama, Singapore.
on top of our long running 8-hrs mountain biking marathon, we will in addition incorporate a lite weight version of Enduro Mountain Biking, timed descent element into the race.
Riders may gun for the marathon ranking or Enduro-S ranking, or even top both ranking as an all rounder all-mountain biker!
Date
25 August 2013, Sunday (6AM – 5PM)
Venue
Lor Asrama, Singapore
Getting there
The venue is off Mandai Road in northern Singapore
http://gothere.sg/maps#q:lor%20asrama
Participant Parking
Participant may park at 'Track 15', off Mandai Zoo Road
Event Partners
Enduro Partner
Event Energizing Partner
 
Supporting Partner

Neutral Services &

Offroading Partner

 

Event F & B Partners
 
 

 

Marathon Partner
 
 
 
 
 
 
  Event Organiser :
 Event Bike Portal:
Supporting Partner:
Race Course
approx 9Km per loop,
2 Enduro-S timed descent zone (subject to changes)
race course subject to changes
Course Profile
note: due to the nature of the venue, course profile for the Enduro-S zone will only be available 72hrs before the event, its extended length should give the course an additional 700metres.  (Enduro-S zone approx at KM 2.25 and KM 3.6).
Event Category
The event essentially revolved around 2 races running concurrently.
meaning by signing up for any of the following category, you or your team will be ranked in both of the sub races!
Men's SOLO (Individual)
Women's SOLO (Individual)
Men's DUO (Team of 2 in relay)
Mixed DUO (Team of 2 in relay with one male and one female participant)
Men's QUAD (Team of 4 in relay)
Mixed QUAD (Team of 4 in relay with at least one participant of the opposite gender)
The following sub race be ranked :
8-HRS Marathon Ranking

 – for long rides junkies, race 8-hrs in team of two or four or take the challenge SOLO, and clock as many laps as you can, where riders/team with the most lap wins

Enduro-S Ranking

– for the gravity oriented all mountain riders. 2 Enduro-S zone  per lap, clock the fastest down these descent.  The accumulative top 5  timecheck across each of these Enduro-S zone will add will up to the rider/team Enduro-S ranking.
Notes:
MIXED QUAD team should have at least one member from the opposite gender.
Any category with less than 5 SOLO / TEAM participants will either not start or will be combined with other categories at the organiser's discretion.
All participants must be 13 years and above (current year  minus birth year, eg 2013-2000 = 13 years)
Event Schedule
24th August 2013, Saturday
Race Kit Collection (hosted by Allsports Equipment)
Allsports Equipment (map link)
52 Ubi Avenue 3
#04-44 Frontier
Singapore 408867 
Time : 10AM – 1PM
25 August 2013, Sunday
6:30 AM    Race Secretariat Opens (Kit Collections)
8:00 AM    Start of Race (all category)
4:00 PM     Last Rider off the Start/Finish Point
4:45 PM      Prize Presentation
Registration
How do I register?
Online Registration
(a) Only online registration is accepted. You can register online NOW.
(b) Payment made online is by way of credit card, bank transfer or by Singapore Dollar cheque only.
---
Cheque Payment
If you are paying by cheque, make sure you complete the online registration procedure and send a crossed cheque made payable to "Dirtraction Group Pte Ltd" to the following address :-
Dirtraction Group Pte Ltd
VBOX 889895
Singapore 919191
---
SGD  Bank Transfer
If you are paying by Singapore Dollar bank transfer
Bank transfer should be made to
Dirtraction Group Pte Ltd
DBS Bank
SGD Current Account 057-900011-7
Bank Code : 7171
Branch Code : 057

we will require you send us via email ONE of the following for payment confirmation
the scan copy of the banking slip with date/time clearly indicated
the transaction number, account number and date/time of transaction
Kindly put in your full name as the 'Payer Name', so we can monitor for your transaction.
Do note that all international bank transfer charges to be borne by the Payer.
---
What is the deadline for registration?
Registration deadline :
Early Bird – till 7th August 2013
Late Registration Period – 8th August 2013 – 21st Aug 2013 with additional administrative fees
After the deadline, DirTraction will not be accepting any registration nor entertaining race day registration, unless otherwise notified on this page.
So, pls do remember to register early!
Must I sign anything?
No Participant is allowed to participate in any of the events without prior agreement to the event exclusion of liability and indemnity statement.
By registering online, you will have to agree to the event exclusion of liability and indemnity statement.
All Participants who are below 18 years old, are required to print a copy of the event exclusion of liability and indemnity form and obtain the signature of their parents or guardians on the form. A signed hard copy will be required on the race kit collection/ race day.
Forms will also be available at the registration secretariat but it would make things administratively faster if you could submit a signed copy.
Rules and Regulations
Participant shall be deemed to have read and understood the rules and regulations upon registering for the race.
If you are physically unwell or unfit , we would advise you not to participate in our events.
If you have any medical conditions that we should be aware of, please write to us and we will inform our race director.
.
Team Tentage & Advertising Materials
Team tentage should only be placed in the designated area.
Venue rules does not allow cooking.
Team Tentage should be strictly without commecial branding, event management retain the rights to invoice such parties.
Unauthorized distribution of promotional material paid or unpaid is not allowed.
Teams and riders are responsible for the cleaniness of the surrounding, please asked for waste bags from our crew.
Team Pit Tent Package
Basic need for Marathon/Enduro racers.
Team Pit Tentage allows riders to recharge, refill and rest at ease for the next lap ahead.
Kit with table and chair for logistics recovery and shelter from the element.
you couldn't get more comfortable with these basic items.
Team Pit Tent Package includes the following :
3m x 3m covered space
1 x table
2 x chairs
(all availability and tentage location are on 1st come 1st serve basis, pricing available on our registration site)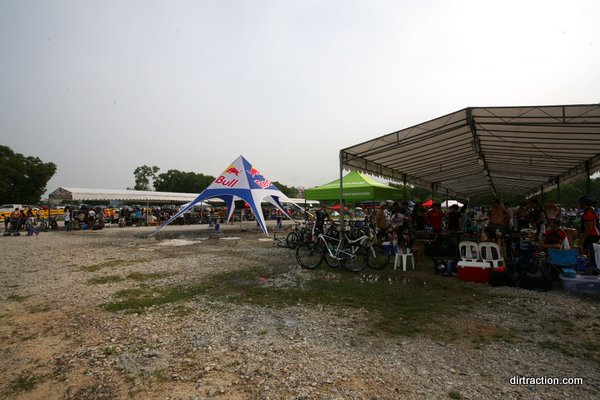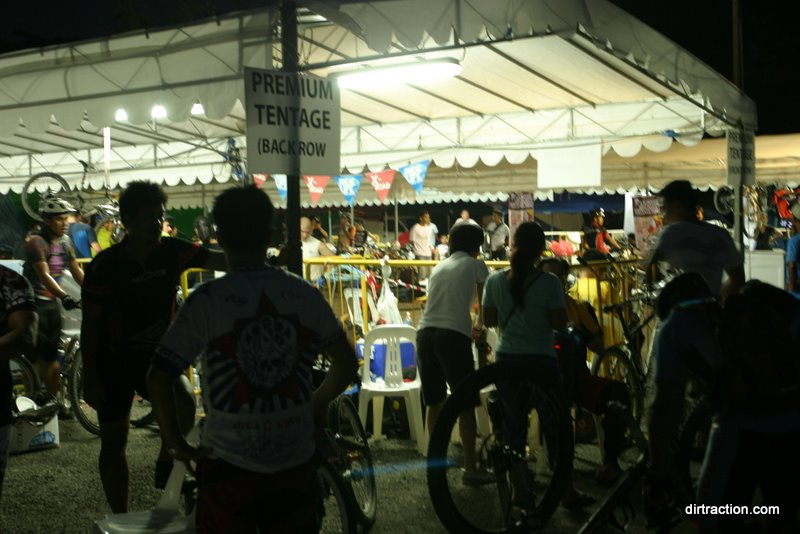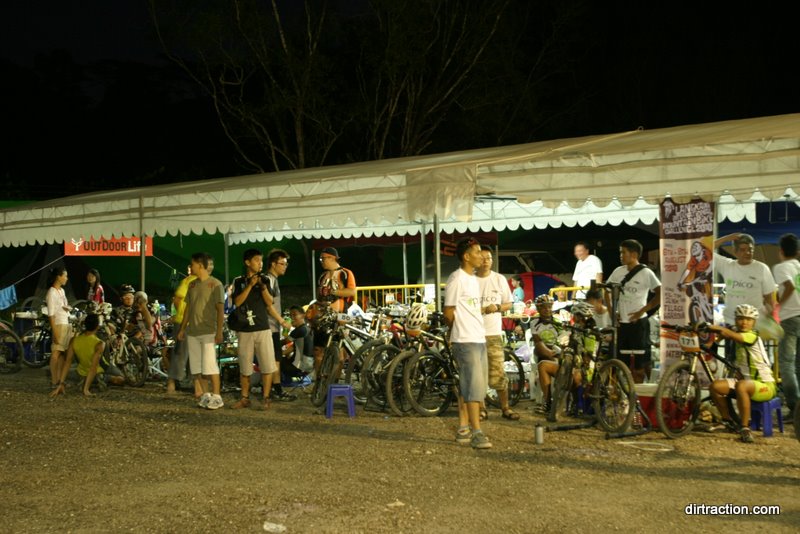 Prizes and Event Entitlement
Marathon Category – top 3 placing
Enduro Category – top 3 placing
What's in the racer entitlement?
A bagful of rare offroad race experience
Event T-shirt (for the first 300 registered rider)
Event Goodie Bag (for the first 300 registered rider)
SpeedTag Official Timing and Scoring
Prize / Goodie bag / Lucky Draw Pool
Five Ten Enduro footwear
Buff headwears
Aromatherapy massage treatment package by Herbal Matters
Free Photo packages by Pix4Rides
EVOC hydration packs
Goodies from Cannondale
TF2 Lubricate and Bike wash
BOS Suspension swags
LINK Molecule Seat posts
ODI Grips
Timbuk2 Messenger Bags
Goodies from Cannondale
Sanuk swags
Bratpacks
Spy+ Optics
Event Results
Event Photos
Official photos available soon.
meanwhile checkout our event photo partner
Pix4ride
 for user submitted shots.