12 Hour Mountainbike Marathon Race Course map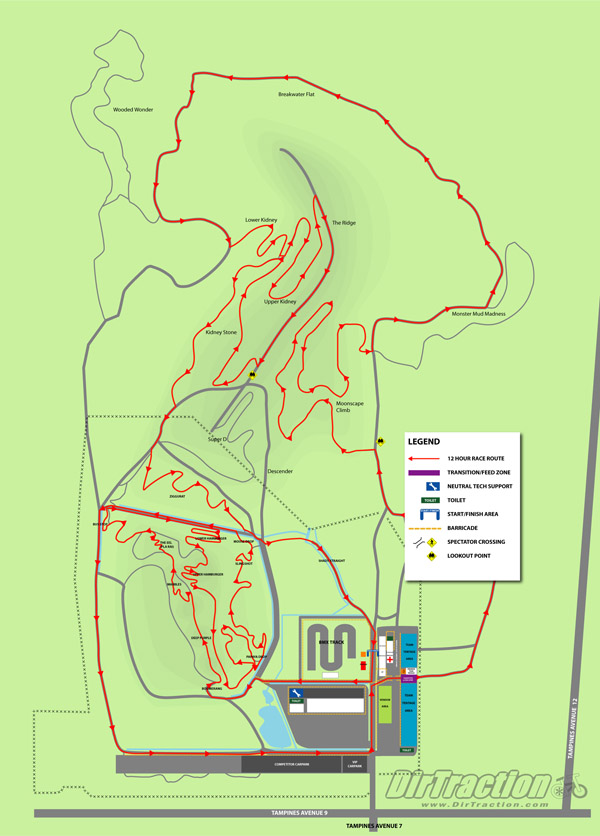 The race course starts at the common start finish area beside the BMX track, doing a right turn on the tarmac before hitting a series of turns to the Boomerang that narrowed down the 8metres width of the track to a single track.
Staying in front during the first lap at the boomerang is critical, get it right and you get the rights to rail the single tracks all the way through the smooth flow of Deep Purple, the rough detour lines of Marbles, the smooth Eel and the Bus stop.
Overtaking opportunity available at the XCO feedzone (no feeding here for the marathon) around the valley, in which one should be prepare to tackle the longest series of climb up the hamburger hills.
Lower hamburger with its humps and pumps brings one to the Upper Hamburger with smoother ride before peaking at the top of the hill. Those technically incline rider should take the front here with an easy newbie rock garden (Hamburger Garden) and a very smooth flow ride all the way to Angry, a sharp left turn before hitting the wonderland in front of the BMX area.
The new revised lines smooth the flow all the way to Raptor (papaya drop), in which the marathon route brings you through the detour, watch out for the shape hairpin!
climbing back to midhill, the route brings you down to slingshot, a series banked turn with the lower slingshot a tight bend rewarding riders who do flat turns well. Going through this section clean will reward riders down the mice drop.
Crossing the feedzone (no feeding!) again and a left turn, one should welcome the first of the easy fireroad where one can bring on the big rings.
The long flat route bring one back to the PIT STOP near the START FINISH, where one swing through the fence into the wooded section towards the torture fest of moonscape climb.
The climb is not in its best condition this year and is relatively a rock garden up and down. Rewarding for technical riders, take it easy for the less skilled.
Upon crossing the moonscape climb and across the bridge, one turn left towards breakwater flat. This long easy fireroad brings one to the start of the lower kidney hill.
A very different ride at the grass filled kidney hill this year, the climb brings one to the top of the ridge and again descent down the kidney network to reconnect with the gated YOG section.
Upon entry through the fence, one intercept ziggurat, with its long descent and 5 new berms taking one back to to shady straight.
The lap ends at the finish straights and one should check in at the TIMING ZONE, and riders can then continue on with the next lap.
Have fun!