XC Race Route
for those who are familiar with the trail network in Ketam MTB Park, the race route in words will read like this :
START off via section B06(Blue Grass) route along all the way to end Section B10, and join Section B01 (Pine Ride).
at the end of pine ride join up with L01 (Golden Orb) all the way to end of L07 (China Bowl).
Climb up L09 (Bird Ridge) and bomb down the nice downhills to L11 (Lactate) and L12 (Enough!) join up B03 (Pave) and B04 (Easy Ridge) and take B05 (Quarry View) all the way back to the START FINISH again.

You may take any Double Black Diamond options if needed (most of them are longer and a lot more technical anyway) so do it at your own will while having fun!
XC Race Route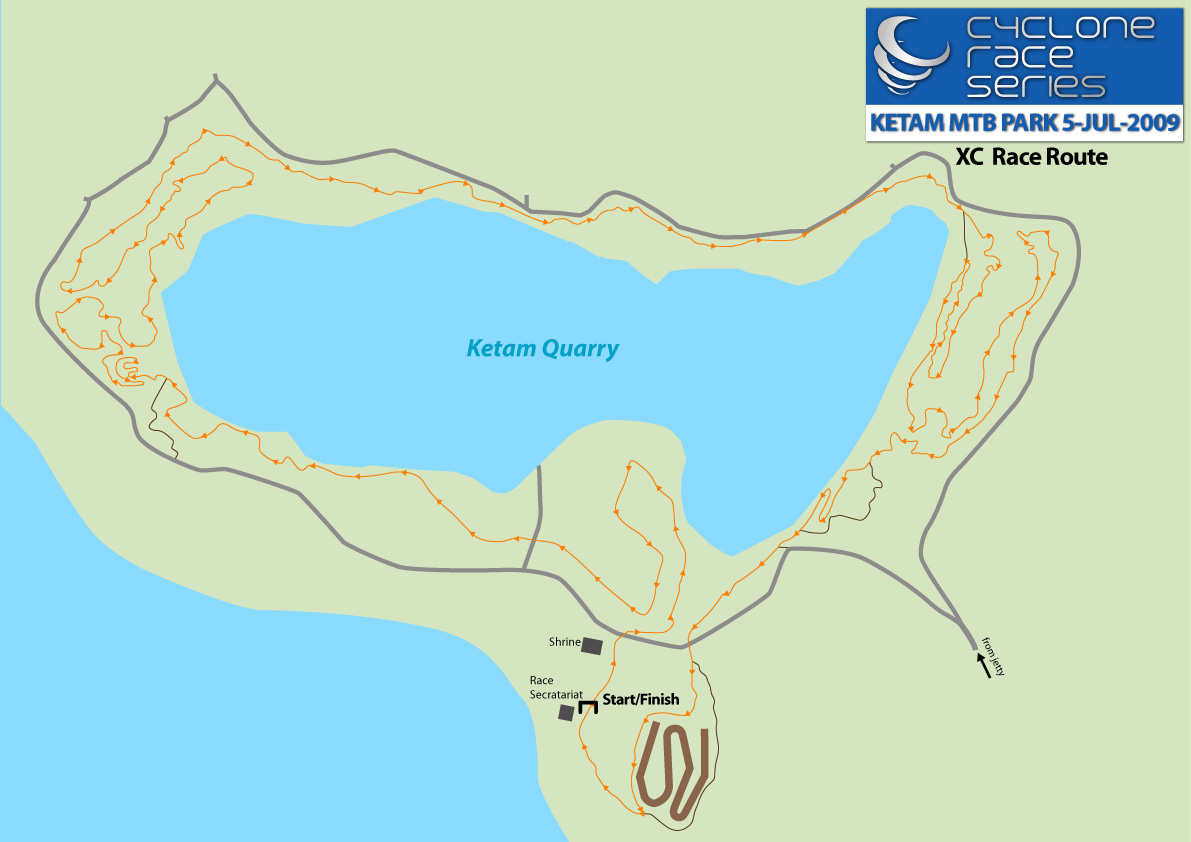 Short Track/Kids Race Route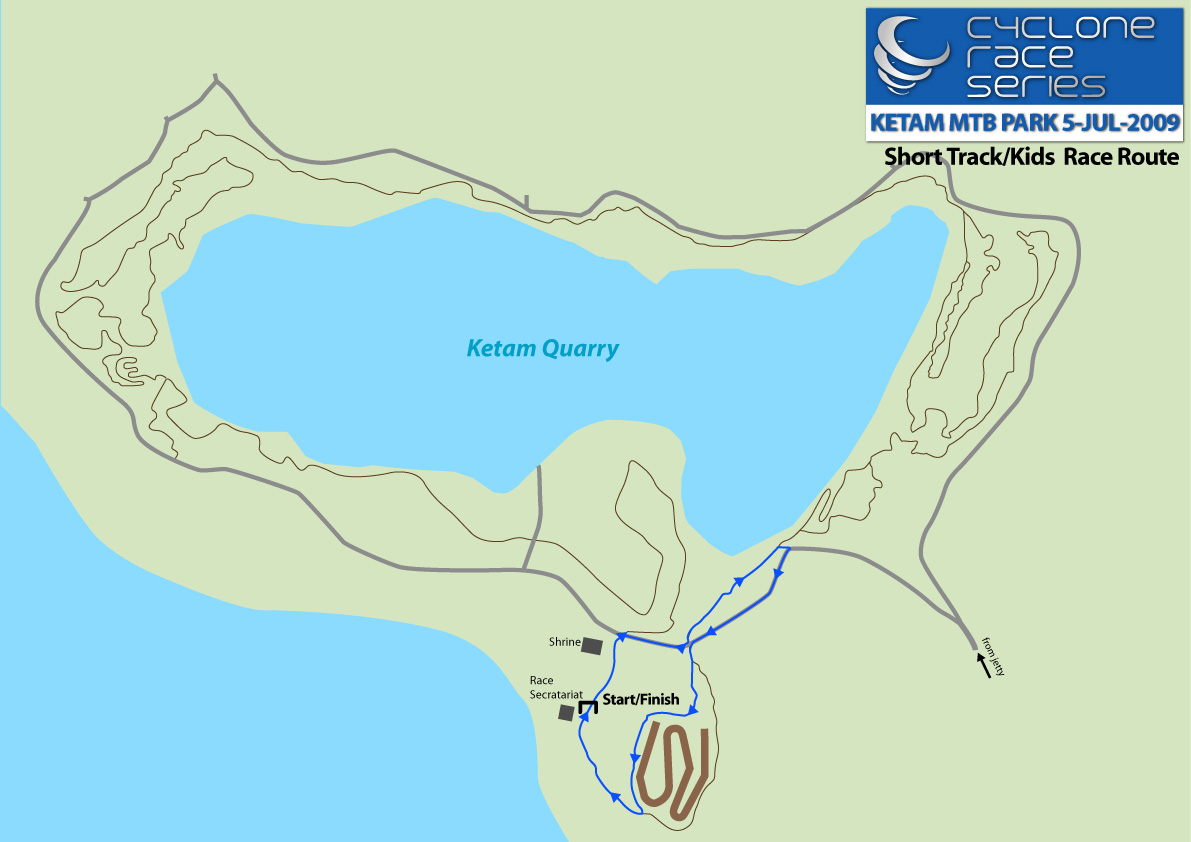 Super D Race Route
The Super D offered at Ketam MTB Park is balanced, with tricky rock chute and a flatish sprint section, bringing one to the pump track before bombing down the finish line.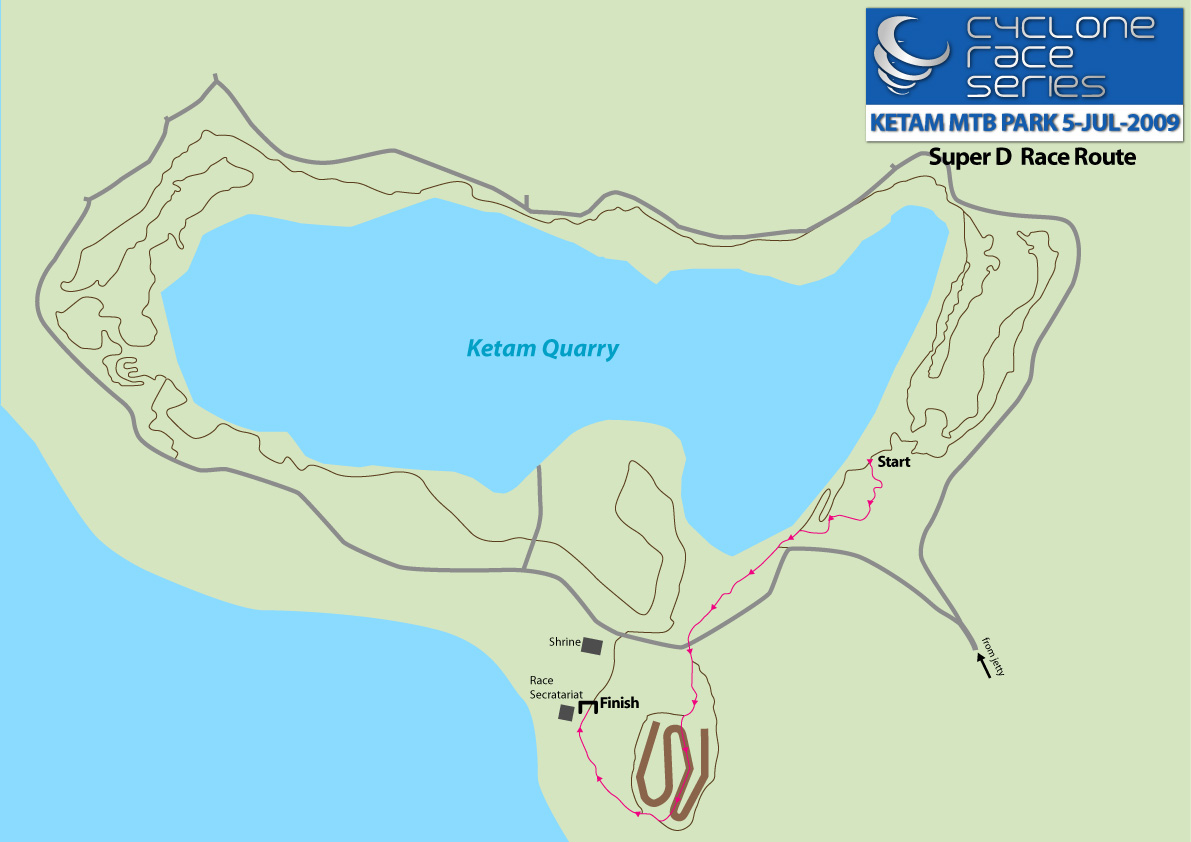 Section

Segment

Distance (metres)

Blue Square Grade

B01

Pine Ride

375

B02

Eagle's Nest

100

B03

Pavé

320

B04

Easy Ridge

155

B05

Quarry View

300

B06

Blue Grass

200

B07

Pumpin'

120

B08

Sea Breeze

175

B09

Ubin Straits

300

B10

Grassy Knoll

730








Black Diamond Grade





L01
Golden Orb
385
L02
Black Forest
470
L03
Rockies
450
L04
Rock n Roll
920
L05
Martian
175
L06
Razorback
345
L07
China Bowl
175
L08
Short Circuit
30
L09
Bird Ridge
475
L10
Down Roller
390
L11
Lactate
280
L12
Enough!
435
L13
Black Cobra
230







Double Black Diamond Grade






D01

Overshot




D02

Strangler




D03

Sleeper




D04

Moab




D05

Diamond




D06

GraveDrop