National Road Championship 2009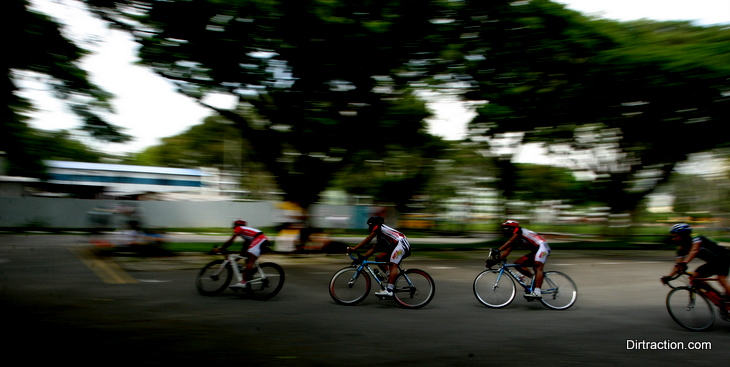 Still remember the days when the National Road Championship was raced around the grounds of the Nanyang Technology University (NTU) in 2005? Where you were free to roam the race course for the classic 25 laps of climbs, climbs and more climbs?
Wait no more as the Singapore National Road Championship returns after a three year break.
With a brand new race course at Kaki Bukit, the new location provides the elements deserving of a champion with a good mix of climbs, cross winds, exposure, technical turns and rough roads!
FOUR national championship categories are offered.
But not forgetting the rest:
SPORTS categories allows the rest of us mortals to experience the race course without the additional bone-grinding hard work and long miles needed to be a national champion.

When?
Sun 4th Oct 2009 (6am - 2pm)
Race Course

Kaki Bukit Ave 4 - Kaki Bukit Viaduct
(see race course map)
Race Registration
Registration details available here.
DEADLINE for registration is 29th Sept 2009, 1800hrs (NO RACE DAY REGISTRATION FOR THIS EVENT)
Race Briefing & Race Kit Collection

Attendance at the Race Briefing is COMPULSORY for all participants.
Race Kit Collection: 11am - 2pm
Race Briefing: 2pm
Venue: SSC Auditorium, Kallang National Stadium (click here for map)
Rules and Regulations
Rules and Regulations applicable is available here (PDF)
Additional rules pertaining to national championship :
Participants who drop off the pace of the main peloton will be removed from the race course. The distance allowed from the rear of the peloton for rear loitering is 500metres.
Race Briefing is compulsory for all riders, the briefing will be held a day before the race together with the race kit collection
As this event is run in line with UCI/SACA rulings to determine Singapore National Champion for 2009, UCI rules, pertaining to equipment list, disallowed sleeveless jersey, aerobars, non standard bikes and equipments for such races.
Order of Race Convoy and Pack Route will be strictly enforced. No unauthorized vehicle on the race course. Click here to see a diagram of the Order of Race Convoy
Participants shall be deemed to have read and understood the rules and regulations upon registering for the race.

While you may be physically fit and have not been medically advised against taking part in our event; if you have any medical conditions that we should be aware of, pls write to us and we will inform our race doctor.
Vehicle Parking

Parking are available within 5km radius of the event site.
No illegal parking allowed along Kaki Bukit Ave 4 and Kaki Bukit Ave 3.
For budding sports photographers/ professional photographers who wish to access the event site,
you are required to apply for a Event Media Accreditation Pass from us.
Benefits of Event Media Accreditation Pass:
access to event site along the race course via media vehicle shuttle (limited space available)
Coverage of the race from the race caravan.
access to start finish straight for final sprints coverage.
Requirements for application :
pre-register for event media accreditation, contact us.
To submit unedited/edited copy of footage/shots during the event, to be offloaded at the race secretariat on race day. (our copy station allows for CF/SD/XD media in various RAW/JPG/MP4 formats)
To allow the organiser rights to co-used the footage and shots for present and future publicity, with credit given to content providers.

Team Tentage & Advertising Materials
Team tentage should only be placed in the designated area. Display of any banners or advertising material should only be confined within each individual tentage.
Unauthorized distribution of promotional material paid or unpaid is not allowed.
| | | |
| --- | --- | --- |
| Event Sanctioned by: | Event Supported by: | Event Energising Partner |
| | | |