Polygon Demo Day at Tampines - Mountain Biking XC Time Trials, Kids Race and Super D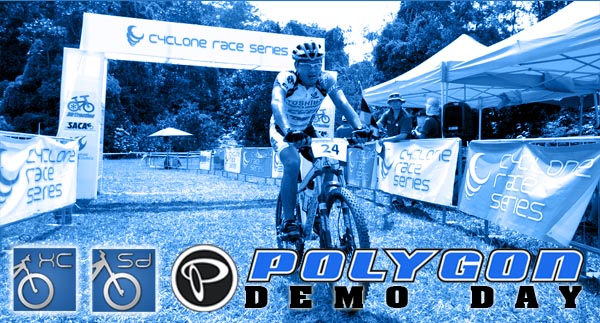 The Cyclone Mountainbike Race Series returns to the urban bike park setting at Tampines Mountain Bike Park.
Join us for the last race in the classic Tampines Mountain Bike Park setting before a major overhaul for the park in preparation of the Youth Olympics Games Singapore 2010.
Introducing a totally new racing format for this event, a challenging XC Time Trials where one can race against the clock without the inherent problem of 1st lap traffic jam that haunt most of mass start XC races.
The Super D format get a refresh look with a dual track format, where racer will race on 2 seperate race course to clock an overall time instead.
The Kids race returns (finally!) and for the first time the kids will be racing against them themselves in a mini Kids Cross Country Time Trials.
For spectators, participants alike, it's Polygon Demo Day at Tampines too.
Get to test ride (offroad!) of up to 15 different 2010 model of Polygon offering from nimble cross country rig to DH monster, while you get yourselves some goodie bags and gain your chances at the lucky draw in the process.
Bring your cards and cash along too as deep discounted parts (up to 50%!) will be made available at the Polygon Outdoor Bazaar.
When?
Sun 15th Nov 2009 (730am - 1pm)
Race Course

Tampines Mountain Bike Park
off Tampines Ave 9
(see race course map)
How to get there
- TPE exit at Tampines Ave 12
- Trail entrance along Tampines Ave 9
Race Registration
Registration details available here.
DEADLINE for registration is 10th Nov 2009, 1800hrs
Race Categories
Event Schedule
Polygon Demo Day Details / Demo Day Registration Form
Prizes and Entitlements
Specially for Polygon Demo Day, Lucky Draw includes the following :
1st Prize: Polygon Frame Collosus 2009 FR2.0 SRP-$1,100
2nd Prize: Polygon Frame Cozmic 2009 RX3.0 SRP-$1,000
3rd - 5th Prize: Polygon Frame Cozmic DX4.0 SRP-$400
Rules and Regulations applicable to the Race is available
participant shall be deemed to have read and understood the rules and regulations upon registering for the race.

While you should be physically fit and not be advised not to take part in our event, if you have any medical conditions that we should be aware of, pls write to us and we will inform our race doctor.
Team Tentage & Advertising Materials
Team tentage should only be placed in the designated area.
Display of any banners or advertising material should only be confined within each individual tentage.
Unauthorized distribution of promotional material paid or unpaid is not allowed.
Teams and riders are responsible for the cleaniness of the surrounding, please asked for waste bags from our crew.
Supported by:

Supported by:

Venue Partner

Event Energising Partner

Super D presented by

Zhenghua Cycling CSC